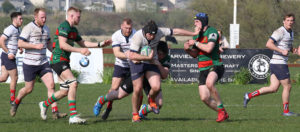 Aberdeen Grammar prevailed in the all Caley encounter in the final of the National League Cup at Bridgehaugh where they had to come back from being 10 points down after 20 minutes to Highland in a full-on game in the blistering heat of Stirling.
The game was never a classic, but did not lack for excitement and endeavour, spoiled only by a limited performance from referee John Shaw who never demonstrated the authority the highly competitive occasion demanded.
Even the players were error-prone in the early stages, as both sides battled to end their campaigns with silverware to sit nicely with the promotions gained from in Grammar's case National League 1 and in Highland's National League 2
In the end it was the more experienced and physical Aberdeen side who came through, with centre Tom Aplin proving to be a tour de force in defence and attack, and finally breaking Highland hearts with his side's fourth and final try in the 65th minute of the game.
The tone of the afternoon was set in the first minute when Highland's veteran hooker Kevin Brown was involved in a touchline spat with the Rubislaw pack, but carried on to play a major part in the feisty start made by the Canal Park side.
Highland were quickly into their stride, cashing in on the many errors made by a hesitant Grammar side who were also giving away a stream of penalties, so it was no surprise when stand off Rory Carson, who was involved in all things good for the Highlanders, stroked over a 26 yard penalty to take the lead in seven minutes.
Lifted by this early score, the National League 2 side continued to dominate, increasing their lead to 10-0 when full back Rupeni Rokoduguni released flanker Callum Carson under the posts for a try, converted by Rory Carson. Grammar were spurred into action, scoring two tries in the space of three minutes, first when captain and stand off Sam Knudson put his half back partner Tom Morrison over the line, and then full back Bryn Perrott raced over after fine work by his fellow backs.
With Perrott converting both touchdowns it was 14-10 with only 25 minutes on the clock after as hectic a start as you will see in any game.
Not surprisingly, the pace of the game dropped, but there was still time before the break for Grammar's Robin Cessford and Calum MacPherson of Highland to earn yellow cards for falling foul of referee Shaw, making all it to play for going into the second half.
Grammar took control in the second half, denying their opponents ball, while scoring a penalty try on the back of incessant pressure, and then finally Aplin's unconverted try, making it a relatively comfortable win, given the early heroics of Highland.
Highland refused to give up, and in a late flurry were unlucky not to score, but the day and the cup belonged to Grammar.
Head coach, Ali O'Connor was delighted to have landed the club's first cup since winning the Integrated Trophy in 2003, but said: "We are really happy to have finished in such dominant style after Highland's storming first 20 minutes.'' Carson was disappointed, but bullish about his side's performance and said: ''We did National League 2 proud today. It was a fast, but brutal game. In the end we couldn't get enough ball. We've now got to lift the guys for our final league game away to Stewarts Melville.''
And finally, an enthusiastic, even raucous, crowd made for a great atmosphere on a day which Caley's best put on a show to be proud of.
© Jack Nixon